***December 13, 2008*** 
Hey guys,
There's been a lot of worry and speculation on the boards lately, and I want to let you know what's going on.
First of all, like you, I'm sad that Catherine is not continuing on with us for New Moon. I'm going to miss her, not just as a brilliant director, but also as a friend. She has such a distinct, authentic voice that did amazing things for Twilight. I'm looking forward to every movie she does in the future.
And she didn't leave us empty handed. We still get the benefits of her amazing casting and the beautiful visual world she created. This foundation puts us in a good place for New Moon.
Summit Films is moving forward with a new director for New Moon. They've asked Chris Weitz, director of American Pie, About a Boy, and The Golden Compass, to join us, and I am very pleased to announce that he's agreed to be a part of our Twilight world. I've had the chance to talk to Chris, and I can tell you that he is excited by the story and eager to keep the movie as close to the book as possible. He is also very aware of you, the fans, and wants to keep you all extremely happy. (Torches and pitchforks are not going to be necessary.)
I'm excited to work with Chris and I think he brings a lot to the table, not the least of which for me is that he wrote the screenplay for and directed one of my favorite movies of all time, About a Boy. I'm really looking forward to seeing his vision for New Moon.
Below is a letter from Chris to you. I think you'll get a glimpse in this note of how cool it's going to be having Chris as part of our community.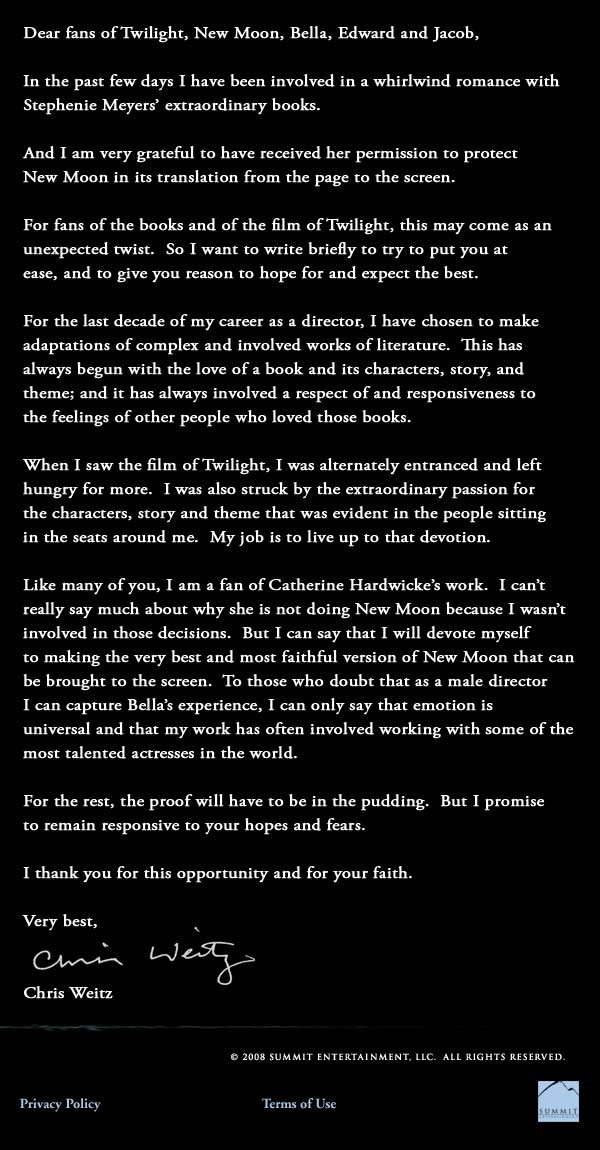 One more thing, unrelated but fun: I finally got around to posting a few pictures from the premiere on the Twilight movie page.
–Stephenie
***December 7, 2008***
Since we always try to keep everybody informed about everything going on in movie news, here is another press release from Summit Entertainment:
SUMMIT BEGINS SEARCH FOR NEW MOON DIRECTOR

Los Angeles, CA, December 7, 2008 — Summit Entertainment and director Catherine Hardwicke jointly announced today that the filmmaker will not be directing the next installment in the newly minted TWILIGHT film franchise. Summit's targeted end of 2009 or early 2010 release of the film, NEW MOON, does not work with Ms. Hardwicke's required prep time to bring her vision of the film to the big screen. Thus as has been done before with many successful film franchises, the studio will employ a new director for NEW MOON.

"I am sorry that due to timing I will not have the opportunity to direct NEW MOON," said Hardwicke. "Directing TWILIGHT has been one of the great experiences of my life, and I am grateful to the fans for their passionate support of the film. I wish everyone at Summit the best with the sequel—it is a great story."

"Catherine did an incredible job in helping us to launch the TWILIGHT franchise and we thank her for all of her efforts and we very much hope to work with her on future Summit projects," said Erik Feig, Summit's President of Production. "We as a studio have a mandate to bring the next installment in the franchise to the big screen in a timely fashion so that fans can get more of Edward, Bella and all of the characters that Stephenie Meyer has created. We are able to pursue an aggressive time frame as we have the luxury of only adapting the novels into screenplays as opposed to having to create a storyline from scratch."
***November 22, 2008***
In case you haven't read about it on fansites or movie blogs, here is the news that we have all been waiting for [source: Summit Entertainment @ summit-ent.com]
SUMMIT ENTERTAINMENT ANNOUNCES TWILIGHT SEQUEL – NEW MOON

Los Angeles, CA November 22, 2008 — Summit Entertainment announced today that the studio is officially moving forward with the production of NEW MOON, the second installment of its filmed franchise TWILIGHT, the action-packed, modern day vampire love story. The movie will be based on the second novel in author Stephenie Meyer's Twilight series titled, New Moon. The first movie in the TWILIGHT franchise, the self-titled TWILIGHT, arrived in theaters this weekend to sold-out showings.

Stephenie Meyer stated, "I don't think any other author has had a more positive experience with the makers of her movie adaptation than I have had with Summit Entertainment. I'm thrilled to have the chance to work with them again on NEW MOON."

Starring Robert Pattinson and Kristen Stewart, TWILIGHT tells the story of 17-year-old Bella Swan who moves to the small town of Forks, Washington to live with her father, and becomes drawn to Edward Cullen, a pale, mysterious classmate who seems determined to push her away. But neither can deny the attraction that pulls them together…even when Edward confides that he and his family are vampires. Their unorthodox romance puts her in physical danger when Edward's nemesis comes to town and sets his sights on Bella.