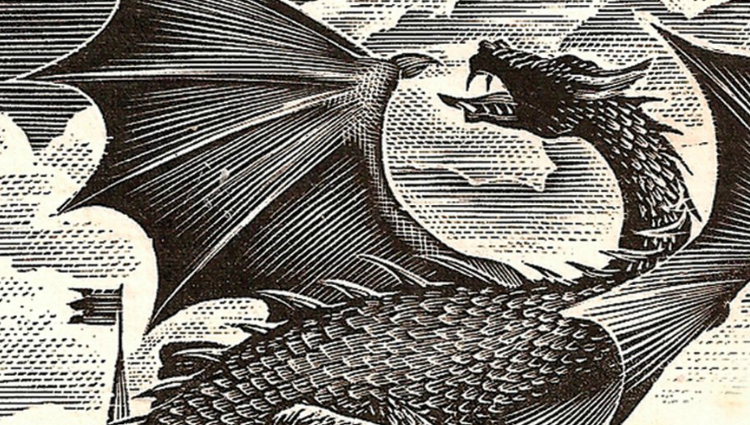 In a time where Game of Thrones has dragons falling from the sky (RIP Rhaegal) (Thanks a lot, Euron Greyjoy), and young girls are bribing government officials to fund dragon research (read that story here), we thought we'd share a list of our favorite dragons and their stories.
1. Tooth and Claw
by Jo Walton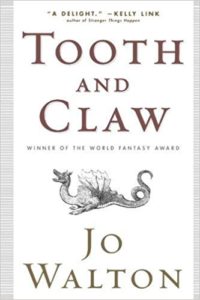 "…Walton returns with Tooth and Claw, a very different kind of fantasy story: the tale of a family dealing with the death of their father, of a son who goes to law for his inheritance, a son who agonizes over his father's deathbed confession, a daughter who falls in love, a daughter who becomes involved in the abolition movement, and a daughter sacrificing herself for her husband. 
Except that everyone in the story is a dragon, red in tooth and claw. 
Here is a world of politics and train stations, of churchmen and family retainers, of courtship and country houses…in which, on the death of an elder, family members gather to eat the body of the deceased. In which society's high-and-mighty members avail themselves of the privilege of killing and eating the weaker children, which they do with ceremony and relish, growing stronger thereby.
You have never read a novel like Tooth and Claw."
Our Favorite Dragons
– Selendra and Sher
We consider it our life's mission to make everyone we meet read Tooth and Claw. Seriously, we keep extra copies on hand just for this purpose. And if you are wondering where on earth Jo Walton came up with the idea of entwining Victorian literature and Dragon culture, read the story here.
2. Dragonflight
by Anne McCaffery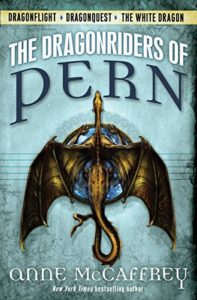 "On a beautiful world called Pern, an ancient way of life is about to come under attack. Lessa is an outcast survivor—her parents murdered, her birthright stolen—a strong young woman who has never stopped dreaming of revenge. But when an ancient threat reemerges, Lessa will rise—upon the back of a great dragon with whom she shares a telepathic bond more intimate than any human connection. Together, dragon and rider will fly, and Pern will be changed forever."
Our Favorite Dragons
– Canth & Ruth
Dragonflight is just the start. Make sure you finish the trilogy with Dragonquest and The White Dragon.
3. Dragonhaven
by Robin McKinley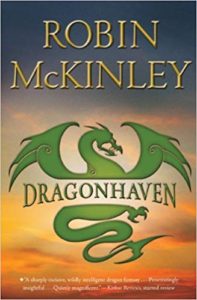 "Jake lives at the Makepeace Institute of Integrated Dragon Studies in Smokehill National Park. There are five million acres of the Smokehill wilderness, and the endangered dragons rarely show themselves. Jake's never seen one except at a distance. But then, on his first overnight solo in the park, he meets a dragon—and she is dying. More than that, she has just given birth, and one of the babies is still alive…
Our Favorite Dragon
– Lois
We should probably make a list of all the Robin McKinley books you need to read, but in keeping with our theme… try The Hero and the Crown.
4. Seraphina
by Rachel Hartman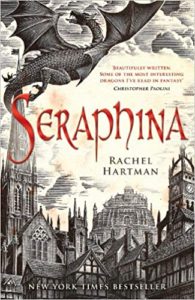 "In the kingdom of Goredd, dragons and humans live and work side by side—while below the surface, tensions and hostility simmer.
The newest member of the royal court, a uniquely gifted musician named Seraphina, holds a deep secret of her own. One that she guards with all of her being.
When a member of the royal family is brutally murdered, Seraphina is drawn into the investigation alongside the dangerously perceptive—and dashing—Prince Lucien. But as the two uncover a sinister plot to destroy the wavering peace of the kingdom, Seraphina's struggle to protect her secret becomes increasingly difficult… while its discovery could mean her very life."
Our Favorite Dragons – Orma and
Seraphina is followed by Shadow Scale and Tess of the Road. READ THEM. And, Rachel Hartman, if you are reading this… please tell us there are more books coming.
5. The Neverending Story
by Michael Ende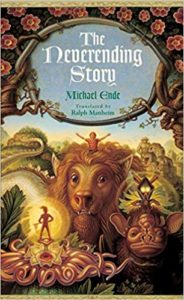 "The story begins with a lonely boy named Bastian and the strange book that draws him into the beautiful but doomed world of Fantastica. Only a human can save this enchanted place by giving its ruler, the Childlike Empress, a new name. But the journey to her tower leads through lands of dragons, giants, monsters, and magic and once Bastian begins his quest, he may never return. As he is drawn deeper into Fantastica, he must find the courage to face unspeakable foes and the mysteries of his own heart."
Our Favorite (Luck) Dragon
– Falcor
The film adaptation of The Neverending Story only covers the first half of the book. You guys, Bastian kinda goes crazy. He almost kills…
ARE YOU OBSESSED WITH DRAGONS TOO?