(This is going to be a long one. I refuse to apologize. It will be worth it at the end.)
The How to Win An Intimate Evening With Stephenie Meyer, Your Favorite Bookstore, And Twenty Of Your Friends contest is over, and can I just say:
YOU GUYS.
If your goal was to make me laugh, cry, and want to hug hundreds of strangers in the middle of a global pandemic, and maybe adopt a few, then you were incredibly successful. If your goal was to kill me, you came close! Deciding on a winner was painful. Every letter reached out to me and said: I am one of your people. We are the book junkies, and we belong together. The descriptions of your bookstores made me want to tear out my hair in frustration because I can't start a road trip right now to go visit all of these incredible places! (But someday I will, mark my words!)
If you want to feel the same way about that trip, check out just a few of the bookstores I was introduced to this week:
(I'll link to the bookstores' websites throughout if they have a website available.)
And those are but a fraction of the amazingness!
Before I announce the winner and share the letter I couldn't say no to, I want to obsess a little bit more about all your letters. The way you describe your relationships with books had me nodding and saying, "Yes!" out loud, alone in my office. Like Molly, who said: "It's so important to be physically surrounded by books, and to be able to peruse through them tactically." YES. And Aubrey, who said: "Ever since I was a little girl, one of the things I wanted most in the world was a library like the one Belle was gifted in "Beauty and the Beast." YES. This dream belongs to us all. Felicia is 100% right that "finding the 'perfect' book for you is like meeting a new friend." YES. Doris: "books have been my constant and steady friends." ME TOO. And then Ashleigh: "I know books save lives, because they saved mine." You're not alone, Ashleigh. So many of the people who wrote in to this contest understand about being saved by books.
And then there were your relationships with the stores themselves. "The Frugal Frigate was my first true love," Rebekah told me. "The peace I feel within this building is heaven on earth for an outsider and misfit like myself." Lizbeth said her store, Golden Books, "feels like a secret." Of her bookstore, Sophie said, "The Hutch was a physical manifestation of my love of reading."
Briana promises this about The Iliad Bookshop: "In the words of SNL's Stefon, this store has everything." Sarah was sure she could "spend days, probably even years" in Mr. K's Used Books. And Bronwyn said, about Boulder Bookstore, "when it's time to leave, it's the saddest part of the day!" Paige made me laugh; she says when one leaves McKay's Used Books: "You come out feeling disoriented as you adjust back to reality, you spent way too much money, and wait, why is the sun-down?" And Tom made me tear up and think about my own childhood when he said, "Book King made me braver, stronger and more outgoing." YES.
And it's not just the impressive indie bookstores that can be our homes. Jessica, writing about her local Barnes & Noble, puts this better than I could: "I wish I had a Meg Ryan little shop around the corner bookstore to tell you about but isn't what makes a place special the people?"
And Yolanda, "I never felt alone in Barnes & Noble." Two of you fell in love with your husbands in a Barnes & Noble! (My husband and I walked through a Borders during our first date, and that turned out pretty great, too.) Danielle, referring to her Barnes & Noble, sums it up with, "Everything is brighter and makes sense in a book store." YES.
I heard about so many amazing booksellers who have welcomed you, embraced you, guided you to new favorites, and helped you find your tribe. They create a community for us all where we don't have to be alone. THANK YOU BOOKSELLERS!
In the words of Isabella, "My experience with books hasn't been all about the ones that lie permanently on my shelf." For so many of you, your true book home, like mine, is the library. Along with Diana, "I give all my love to my local library; hopefully, someday I am able to repay all that it has done for me." YES. Every space dedicated to books is heaven, and I'm so glad I was able to celebrate all of them through reading your letters! (Alicia even made a good case for Audible, her "bookstore of the mind." YES.)
Do you begin to see the difficulties? This is such a small sample of what I was given. Picking a winner was torture, but there was one letter I came back to again and again. With Milinda's permission, I'm including it here in its entirety. (Be sure to join me on the other side. Shockingly, I still have more to say. I told you this would be long.)
Corner Book Store
Sandpoint, Idaho
I love my local bookstore because it was a safe haven for me. I grew up in the Foster-Care system which was most definitely not easy; there weren't a lot of constants in my life, and it was a scary time. Luckily, I never had to move towns… only homes.
While it became normal to sleep in a different bed every few weeks, or sometimes even days, it was comforting to be surrounded by places I knew and people I love. And if I'm being completely honest, one place I felt the most comfortable and at-home was my local bookstore. Books were my escape and one of the few constants in my life, and the little bookstore on the corner of downtown Sandpoint was a place of happiness for me.
The owner of the bookstore was always incredibly kind to me. If I didn't have enough money while buying a book, he would always let me take it anyways and let me pay it back the next time I came in. He wasn't bothered about the amount of time I would spend wandering around the store, and was always ready to share any book recommendations. The large selection of used books was a dream come true, and the pricing was very generous. The owner would actually bargain with you if you could make a good argument as to why a book price should be lowered.
I vividly remember when I bought my Twilight series from the bookstore… I had earned $25, and immediately decided to bike across town to spend it on the series. When I left it had been cloudy, and by the time I arrived it was raining. But my love for Edward wouldn't let bad weather stop me! Afterall, the weather just had me looking forward to my read-a-thon even more; one of the greatest feelings ever is when it's raining outside while you're wrapped up in a warm blanket reading a good book. The happiness I felt in my heart while purchasing those books, and awkwardly attempting to bike back home in the rain with a bag of books on one handlebar, was immense.
A kinship for the love for books is one of the best things, and I felt that when I went into my local bookstore. So many thousands of stories in one small place, with so many worlds to explore and people to meet. My local bookstore was just so much more than a regular bookstore. It wasn't all shiny and new and perfectly organized. It was small and crowded, and a bit messy. It was imperfect. But it had character, and it was easy to see the time, love and care that was put into it. I am incredibly grateful for my local bookstore, and that it gave me a safe and comfortable place to go to.
Milinda, THANK YOU for sharing this with me. You touched my heart. I am so excited to virtually meet you and talk about books! Congratulations on winning, and please accept one very big virtual hug.
---
But I'm not done! Guys, I cannot forget the other letters that moved me deeply. So many amazing happy experiences, so many heartbreaking situations. I was desperate that I had to turn some of you down. So I'm not going to.
Only one person can win the intimate hang out, and that is Milinda, but I will (virtually) embrace you all to the best of my ability. Dulce, who wrote in about her Texas Barnes & Noble and her local library, gave me the idea—the solution! She so generously offered: "if I were to by any chance win, I would like to invite other contestants as my friends."YES, DULCE! HIGH FIVE! EVERYONE GIVE DULCE A HIGH FIVE!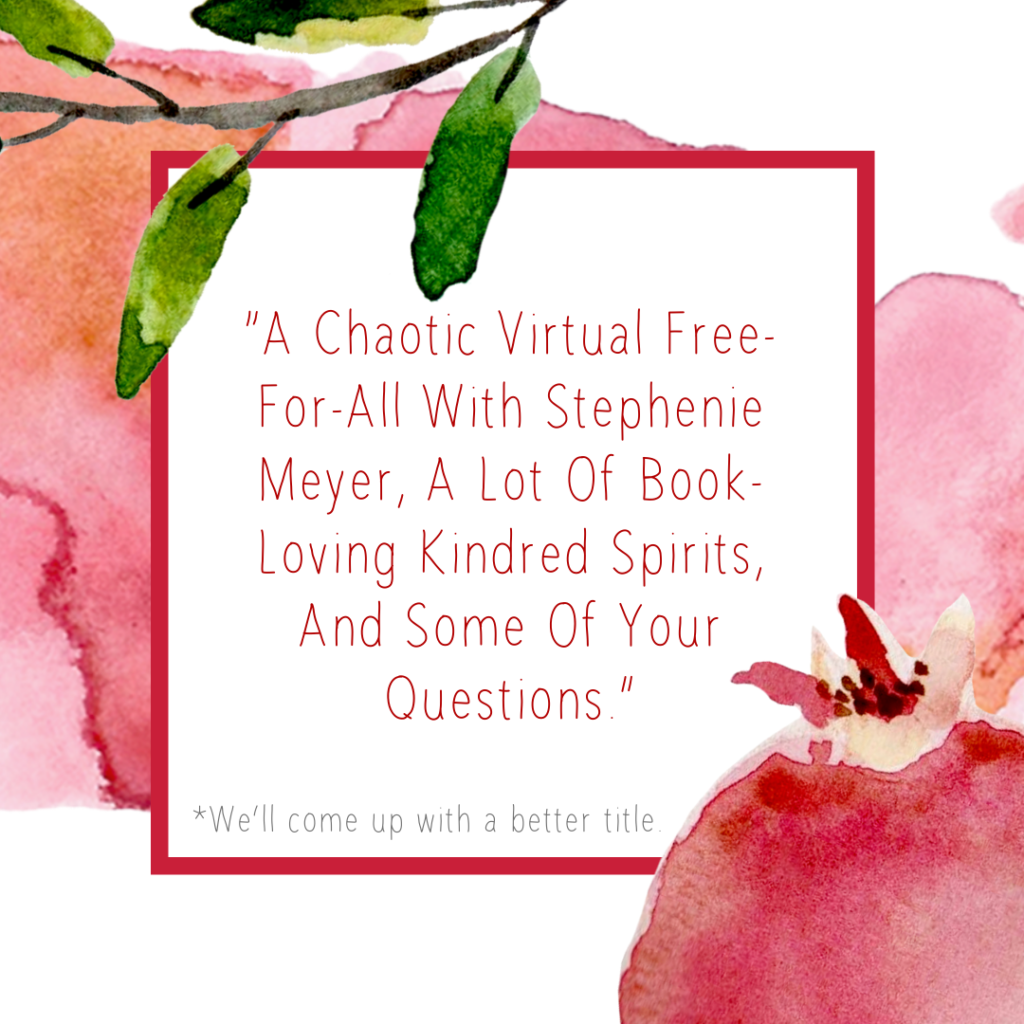 This is what we're going to do—one big virtual hangout with everyone who entered. (Milinda, you are invited to this one, too, if you wish). I don't know how many people that is exactly—I did not count all the letters I read—but we are going to Make. It. Work. If you entered a bookstore, or a library, or an audiobook service into this contest, then you are invited. You'll also be receiving a personalized signed bookplate. Check your emails to make sure we can send that to you, as well as all the information and the date! I really hope everyone can join, even though it might be a little chaotic. When we reach out, we'll also ask for the question you most want answered, so that I can get organized and see what is foremost in your minds. But I'll also try to take as many questions as I can live. We can do this, people!
Thank you again, everyone. I've tried to convey how much your letters meant to me, but I don't think I can express the depth of my feelings (so much for being a writer!). Thank you! Keep loving books and booksellers and bookplaces and each other. I'm so grateful you are my readers. You are the best group of readers in the universe.
P.S. One short note just for Consuelo: (You are the only Consuelo who entered, so yes, I'm talking to you.) I want you to know that I love you, and I'm rooting for you. Please be safe. I want the chance to hug you for real someday.