The faces of a few lucky readers will be appearing in the upcoming The Host teaser trailer. All the rules and instructions for this contest can be found on The Host Movie Facebook page. Click on the image below to go to that page: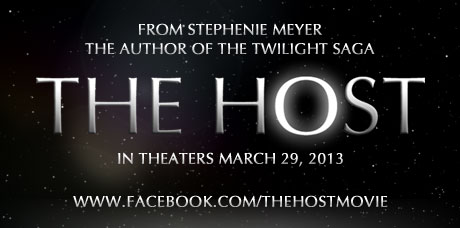 February 11, 2012
First, a little tease: check back to this page soonish, as I will have some very exciting news to share about upcoming chance for you to get involved with The Host. Stay tuned!
The Host begins filming this coming Monday the thirteenth, and I am so excited. It's somewhat of a dream to have the creator and director of my favorite sci-fi film (Gattaca) helming this movie. I love the script he's written, I love his beautiful vision, and I love working with him.
I also can't say strongly enough how thrilled I am with our cast. The talent involved is unbelievable. We've been so blessed/lucky/kissed-by-fate all throughout the casting process. Wanda/Melanie is a very complicated role, and for a long time one of our biggest worries in the producer camp was finding an actress who could bring those two distinct personalities to life. And then Saoirse came along and we all quit worrying. If you've never had the pleasure of watching her act, I highly recommend her recent release, Hanna. Actually, watch her in anything she's done and you'll see what I mean. After Saoirse joined us, amazing actor after amazing actor signed on until none of us could believe our good fortune. Just the other day I got to meet William Hurt (!!) in full Jeb beard and hair, and it kind of choked me up. He looks amazing—they all look amazing!—and I can't wait to see them in action next week.
Another incredible addition to our cast—one which I believe I'm the first to announce—Maggie will be played by the wonderful Frances Fisher. Welcome, Frances, I couldn't be happier that you've chosen to join us!
Last week I got to tour the caves, too. They aren't finished yet, but wow! I've gotten to be on some fun builds before—the Eclipse mountaintop, the Cullen house, the Volturi tower, Edward and Bella's cottage (love!)—but nothing like this. It's massive and beautiful, and walking around inside is like walking around inside my imagination.
No pictures to share on this one yet. Everything is under wraps for now, but I can't wait until you can see some of the amazing things we've got underway.
So the busyness will not be ending anytime soon with all three projects currently ongoing. I'm hoping to get a little writing done at the same time, but writing on set has proved an elusive goal for me in the past year. I'm looking forward to this May, when I will officially be home for good and back here at my computer where I like to be best.
Steph